The temple of Taxiarchis in Charouda has an interesting legend behind it. According to the legend the temple was built by a master craftsman who had a father who was master craftsman. The two master craftsmen competed for the best result.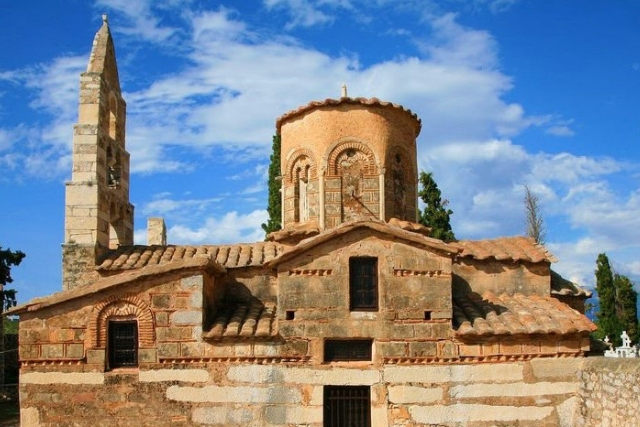 The father with the Taxiarchis of Glezos and his son with the Taxiarchis of Charouda. In the crisis that followed with the completion of the churches the judges according to the tradition gave victory to the son. The father, recognizing that he was overcome by his son, is said to have passed away from his sorrow as he was moving away from Charouda. The church of Taxiarchis of Charouda, built by the son, is impressively large for the area and used as the center of a monastery. In the dome and in the arch of the sanctuary there are dishes that saved and on the east side an inverted burial marble slab with an ancient inscription: «ΔΑΜΟΝΙΚΙΔΑ ΧΑΙΡΕ ΤΕΙΜΑΡΕΙΝ ΧΑΙΡΕ» 
On the north wall inside, the huge marble macronias are visible, replacing woodworking, to overcome the lack of wood. Surrounded by the cemi-cylindrical domes and the dome base is a bevelled cornice with decorative syrian wheels, fireworks and cross-shaped rossetes. The temple is full of post- Byzantine frescoes of the 18th and 19th century. Particullarity is represented by the depiction of Virgin Mary with the loose hair,weeping in one view.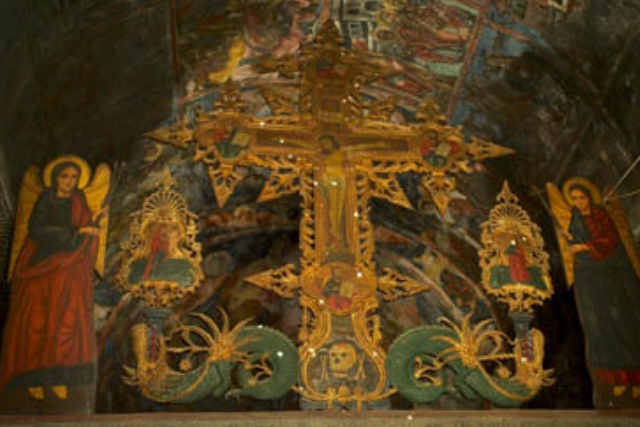 Notable architectural monument of the area with well designed masonry and remarkable variety in the view of the facades.It dates back to the 11th century, while it was decorated in late post-Byzantine years with frescoes. The temple is cruciform with dome, multi-storey, bell tower with ornate carved marbles at the door and windows and the lower part of the walls are made of large blocks, showing the age of this tradition.